Ferrari Dream Drive
Sunday, August 19, 2018
The Annual Ferrari Dream Drive will be held Sunday August 19 in the parking lot of Baton Rouge restaurant located at:
3839 St Johns Blvd, Dollard-Des Ormeaux, QC H9G 1X2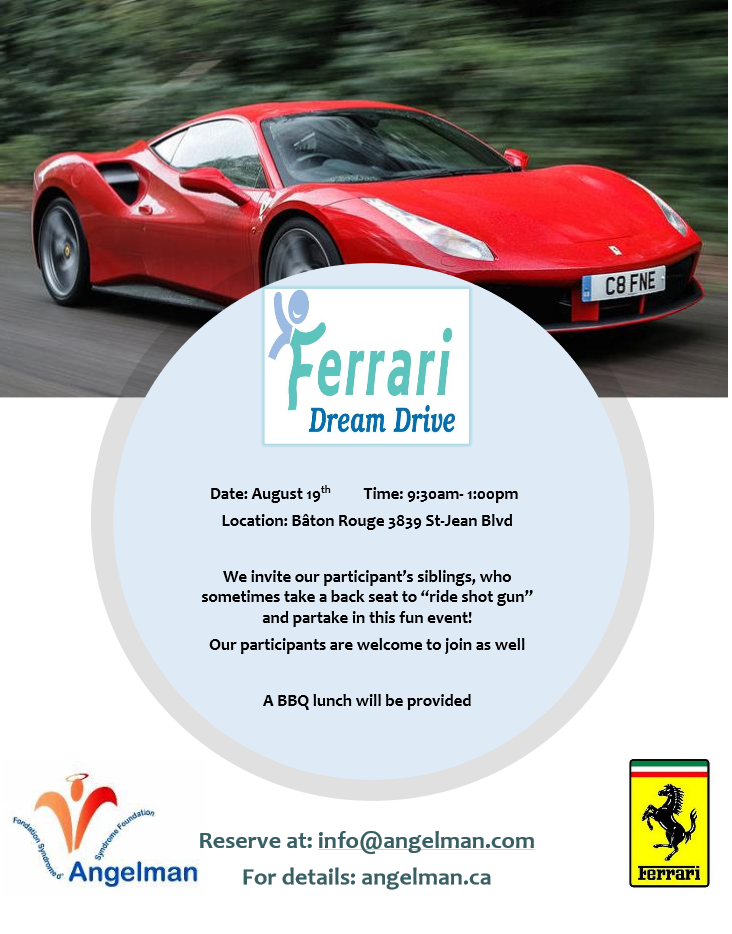 This exciting Ferrari ride is primarily offered to siblings of our special population. These sibs, from 6 to 18 are often in the back seat and we want to make them the star of the day! If some special needs kids can make the 30 min drive alone or if we have 3 seaters available, we'll do the impossible to bring them for a ride!
This is what the organizing crew had to say:
''We are proud to announce that this year we have decided to help a local cause doing extraordinary things which is the Angelman Foundation and its respit center. This center has become a necessity for exhausted parents and families coping with children that require constant care. Unfortunately, it operates at a constant deficit and we have decided to do our best to help them.''
The Annual Ferrari Dream Drive will be held Sunday August 19 in the parking lot of Baton Rouge restaurant located at:
3839 St Johns Blvd, Dollard-Des Ormeaux, QC H9G 1X2
Please register now on www.ferraridreamdrive.com (Drivers) and kids at info@angelman.ca
Baton Rouge restaurant will once again offer a free lunch to all participants!
This event is in collaboration with Ferrari Maserati Quebec and The Luigi Ferrari Club Quebec.